On September 14th, 2022, the Independence Through Enhancement of Medicare and Medicaid (ITEM) Coalition, coordinated by Powers, with support from member organizations and industry stakeholders, held a briefing in Dirksen Senate Office Building to discuss the benefits of Medicare coverage of seat elevation and standing systems in power wheelchairs. The briefing follows a recent 30-day public comment period on the issue that closed on September 14th. Through the ITEM Coalition, Powers organized a grassroots campaign to solicit more than 3,500 public comments to the Centers for Medicare and Medicaid Services (CMS) in support of Medicare coverage for these systems.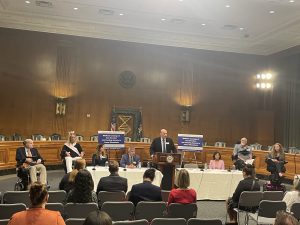 During the briefing, Sen. Tammy Duckworth (D-IL), Rep. Dan Meuser (R-PA), wheelchair users and advocates, clinicians, physicians, and researchers made remarks in support of Medicare coverage of these systems for people with mobility disabilities. Powers' Managing Partner Peter Thomas also presented on the issue and Joseph Nahra, Powers' Director of Government Relations, was instrumental in organizing the briefing.
Following the event, House and Senate champions led two sign-on letters to CMS seeking advancement of coverage for seat elevation systems and a timely opening of a related National Coverage Analysis for power standing systems, following a comprehensive request for coverage of both systems prepared and submitted by the ITEM Coalition in 2020. The ITEM Coalition will continue advocating with Congress and CMS for Medicare coverage of these systems. CMS is expected to release a preliminary decision on power seat elevation coverage in February 2023, with a final decision expected in May.
The efforts of the ITEM coalition come at a critical time. Currently, the Medicare program prohibits coverage for seat elevation and standing systems in power wheelchairs and views these systems as "not primarily medical in nature" and a "convenience" to the user. People who spend most or all of their days in a power wheelchair, however, see widespread medical and functional benefits from these systems, including:
Safe transfers from a wheelchair to another surface, particularly if it is not level with their power wheelchair;
Increasing their ability to function independently at home as much possible;
Improved circulation, bone strength, skin health, respiratory and GI tract function, and many other medical benefits.
Powers Managing Partner Peter Thomas, who works closely with the Healthcare and Government Relations & Public Policy teams at Powers, serves as the lead legislative counsel for the ITEM Coalition and was instrumental in developing this effort. Peter co-coordinates the ITEM Coalition with Joe Nahra, Director of Government Relations. Over the past three years, the ITEM Coalition has led a stakeholder effort to advocate for coverage, including preparing and drafting a comprehensive and extensively-sourced National Coverage Determination Reconsideration Request, coordinating support for national disability, rehabilitation, patient, clinician, and industry organizations, garnering support from Members of Congress and Administration officials, and more. The ITEM Coalition also created a comprehensive website for coalition members and supporters to access resources to help guide them in advocating for coverage, as well as a petition urging CMS to move forward with approving coverage.
Powers assists clients with Medicare coverage, coding, and payment requests of all kinds.  For more information on the attorneys who perform these services or to request a consultation, please contact Peter Thomas at Peter.Thomas@powerslaw.com or Joe Nahra at Joseph.Nahra@PowersLaw.com.