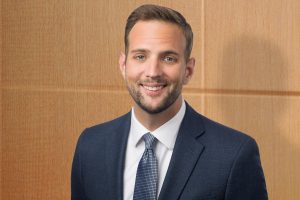 This month's Professional Spotlight highlights Dan Brozovic, Principal in the Powers Education group. Dan's experience in the higher education sector enables him to provide practical, real-world advice that clients can understand and implement with confidence. Dan focuses on advising clients in transactions regulated by the U.S. Department of Education and in regulatory matters and administrative litigation before the Department of Education. In addition, he counsels educational institutions regarding compliance with federal, state, accrediting agency, and grant funding agency standards.
---
Q: Why did you choose a career as an attorney in the Education practice group?
A: I loved the academic environment, both in college and in law school. My career at Powers in the Education group has allowed me to keep one foot in that environment while also handling cutting-edge legal issues. The excitement of working in our nation's capital also can't be beaten!
Q: What professional accomplishment are you most proud of?
A: We work with a broad range of institutions and education-sector clients, both large and small, across the country. With smaller clients in particular, I've seen just how intimidating the Washington regulatory maze can be. Many of my proudest moments have come from helping these clients maintain compliance and respond to challenges so they can remain focused on their educational missions.
Q: What do you like most about working at Powers?
A: The best aspect, which can also be the most challenging, is that no two days are the same. One day I might be working on regulatory aspects of a transaction, another advising a client on institutional privacy policies or assisting with the response to enforcement action, and yet another may find me working on public policy and rulemaking issues. I enjoy the endless source of opportunities to continue sharpening my skills while also serving our clients.
Q: Do you have any hobbies/what do you like to do outside of work?
A: I once fancied myself a tennis player and avid reader, but now most of my free time is spent with my wife and eight-month-old baby. And it couldn't be better.
Q: If you were not in law, what profession would you have chosen?
A: Engineering. I love solving problems, and the analytical aspects of an engineering career (like law) have always appealed to me. My colleagues know me as the person who gets excited about working with spreadsheets.
Q: What is your favorite vacation destination?
A: As a Florida native, definitely Disney World. Now, I'm just waiting for the baby to be old enough to go!