Every year, March is designated Women's History Month by presidential proclamation. Throughout the month, the nation celebrates the contributions of women throughout American history. In honor of Women's History Month this year, Powers would like to take a moment to celebrate the remarkable talent and accomplishments of the women at our firm. Their dedication to client success have helped make Powers into the firm it is today.
"The firm is proud of the talent, hard work, and expertise of the women in our firm. We could not achieve the results we get for our clients without their incredible contributions. Although we recognize and celebrate their work this month, we honor their accomplishments throughout the year," stated Peter W. Thomas, JD, Managing Partner of the firm. "We hope to continue attracting top legal talent like the women highlighted below."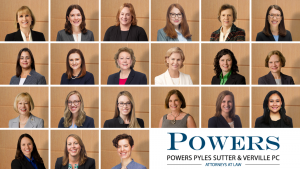 The Women at Powers
Education
Sherry Gray is a Principal who has advised colleges, universities, and other postsecondary institutions on all aspects of state and federal laws for nearly three decades. She has helped defend clients against adverse actions initiated by government and accrediting agencies, negotiated favorable settlements in response to U.S. Department of Education program reviews and Office of the Inspector General audits, assisted institutions with respect to mergers and acquisitions, and more. She has been recognized by Best Lawyers eight times and was selected as the "Lawyer of the Year" for education law in the Washington, D.C. region in 2020.
Cynthia Grunden is a Financial Aid and Higher Education Specialist at Powers. With more than 20 years of experience as a financial aid administrator, she assists public and private colleges and universities with successfully navigating the highly regulated field of higher education and federal financial assistance. Cynthia's specialty is helping institutions interpret and operationalize complex regulations and balance compliance, enrollment management, and customer service.
Sharon Bob is a is a higher education specialist who has an in-depth understanding of the complex and vastly regulated field of higher education and federal financial assistance. She advises all sectors of higher education regarding strategic issues pertaining to their participation in the federal student financial assistance programs, accreditation, licensure, education tax benefits, and related regulatory matters. She helps institutions prepare for Department of Education program reviews or accreditation visits, conduct training on the administration of the federal financial aid programs, and implement policies and procedures that are compliant with applicable statutes and regulations.
Katherine Demedis, Counsel for the education practice, advises educational institutions regarding compliance with state and federal standards and accrediting agency standards. She has a range of experience on federal education matters, including assisting institutions in preparing for Department of Education program reviews, responding to program reviews, advising schools on compliance with the Family Educational Rights and Privacy Act Regulations, and counseling schools on Department of Education regulations.
Taylor Dowd is an Associate who supports the education practice on a variety of issues, including accreditation, transactions regulated by the U.S. Department of Education, and compliance with federal, state, accrediting agency, and grant funding agency standards. While in law school, Taylor volunteered with Street Law and served as the program coordinator for its middle school outreach program.
Abby Felter is an Associate in the education practice. Abby supports the practice in counseling for-profit, non-profit, and state schools, online program management companies, and accrediting agencies regarding the complex regulatory framework governing higher education. During law school, she interned for the FEMA Procurement and Fiscal Law Division and was a research assistant in the area of Constitutional Law for Federal Judge Gregory Maggs and Professor Robert Tuttle.
Olivia O'Hea is an Associate in education practice. She works with the practice on matters of federal, state, and accrediting agency regulation of public and private postsecondary educational institutions. During law school, she was recognized as Best Advocate at the 50th Annual Leahy Moot Court Competition, Regional Best Advocate at the American Bar Association NAAC Moot Court Competition, and she received the Dean's Certificate for outstanding service to the Law Center community.
Government Relations
Julie Allen is a Principal who has worked to advance the legislative, regulatory and business agendas of investor-owned and nonprofit clients and national organizations in Washington, DC for more than two decades. Her strong policy skills and political instincts along with her experience navigating Congress and the Executive Branch, make her an essential partner for business leaders, association executives, and advocacy organizations.
Peggy Tighe is a Principal at the firm, where she develops persuasive policy arguments and strategies for clients to influence Congress and relevant agencies, creating change to protect and support providers and the patients they serve. Peggy has also been involved in mentoring and empowering other women in government relations. She served as President of Women in Government Relations, a group dedicated to supporting women's leadership in government relations, and has been honored as "Most Distinguished Member" by the group. She was also selected as Mentor of the Year by the Public Leadership Education Network in 2008.
Kathleen Hatfield is Counsel for the firm, focusing on the acquisition of federal, state and private funding for hospitals, Federally Qualified Health Centers (FQHCs), and others, so they can obtain the resources they need to rebuild infrastructure, fund hazard mitigation and security upgrades, and train healthcare providers.  Kathleen has been recognized in Super Lawyers for the past seven years.
Leela Baggett is an Associate who has a wide array of experience in the firm, working on regulatory, litigation, and legislative matters. Her practice includes advising clients on compliance with Medicare coverage requirements, assisting innovators with coding matters, advocating for legislative and regulatory policy impacting rehabilitation services and orthotic and prosthetic care, counseling Native American tribes and tribal enterprises on transactional and gaming matters, and more. Leela was honored as a Super Lawyers Rising Star in 2021.
Taryn Couture is a Director of Government Relations at Powers. She is highly skilled at advancing legislative agendas through lobbying, grassroots advocacy, coalition building, and policy analysis. Taryn works extensively in the field of women's and maternal health, supporting and building coalition collaborations to address expansion of clinical trials in women's health and advancing health care research through appropriations advocacy.
Michaela Boudreaux is a Legislative Analyst at Powers, where she focuses on health and disability policy and advocacy. She provides essential support to the Legislative practice through advocacy and policy efforts in a variety of areas including Medicare, Medicaid, public health, and health care reform. She has extensive knowledge of the legislative process and is skilled at leveraging her strategic communications skills to advance legislative agendas.
Healthcare
Barbara Williams is a Principal with an in-depth knowledge of a wide range of federal and state regulatory programs, including Medicare and Medicaid. She has obtained favorable decisions at the Provider Reimbursement Review Board (PRRB) on reimbursement disputes involving wage index, indirect graduate medical education payments, and the Hospital Inpatient Quality Reporting Program. She has also successfully settled administrative cases involving disproportionate share hospital and bad debt issues. Barbara also regularly advises clients on compliance with the requirements of the 340B drug discount program and on responding to 340B audits. She has been recognized by Best Lawyers four times.
Diane Millman is a Principal who focuses on the representation of physicians, ambulatory care providers, and professional and trade associations. She has worked with physicians, hospitals, management companies, and other entities to establish both freestanding and hospital-based ambulatory care centers, including radiation oncology centers, diagnostic imaging centers, and mobile testing facilities. Diane has been selected by Best Lawyers each year for the past 20 years.
Rebecca Burke, Counsel in the healthcare practice, specializes in federal laws and regulations governing healthcare and has a deep understanding of general association law matters and related issues including HIPAA, antitrust, tax-exemption organizations, and the private insurance marketplace. Rebecca also specializes in regulations surrounding telehealth and she provided much-needed insight on this highly relevant issue throughout the COVID-19 pandemic.
Christina Hughes, Counsel, represents hospitals and hospital systems, home health providers, physicians, O&P suppliers, pharmacies, and diagnostic and other health services providers. She has in-depth knowledge of the Stark law, the anti-kickback statute, and the federal False Claims Act, as well as Medicare claim denials and appeals and compliance with Medicare coverage requirements.
Megan La Suer is an Associate with a range of range of legal and legislative advocacy experience. She provides counsel on compliance issues related to the 340B Drug Pricing Program and Ryan White program, state Medicaid policy and licensure requirements, HIPAA privacy and security rules and the GDPR, and Medicare enrollment and reimbursement matters.
Natalie Dobek is an Associate in the Powers healthcare practice. She supports the practice on a wide variety of issues, including healthcare regulatory and compliance matters such as compliance with the Stark and anti-kickback laws, Medicare billing and reimbursement, and self-disclosure matters.
Mary Susan Philp, Senior Counsel, has been working on Medicare and Medicaid reimbursement and compliance matters for more than 30 years. She has represented numerous hospitals before the PRRB in individual and group appeals, successfully represented hospitals in defending False Claims Act investigations relating to use of non-FDA-approved medical devices, and negotiated a settlement for a hospital regarding False Claims Act allegations with the U.S. Attorney and U.S. Department of Health and Human Services Office of Inspector General. She has been recognized in Super Lawyers seven times and Best Lawyers two times.
Tribal
Natasha John is the Director of Tribal Government Relations in the firm's Indian Tribal Governments practice. Natasha has focused on tribal clients' legislative and regulatory policy goals in the areas of energy, land and natural resources, environment, economic development, and infrastructure. In addition to representing clients on Capitol Hill, she has represented clients before executive agencies, federal advisory committees, and energy industry groups. Natasha was listed on the District of Columbia Courts 2020 Capital Pro Bono Honor Roll with high honors.
Management and Support
Powers would like to recognize the women who provide daily management and support at the Firm:
Dorothy Mooney, Executive Director
Kathleen Collins, Marketing Manager
Tiffany Tillery, Accounting Manager
Mary Hoadley, Billing Supervisor
Administrative support team:  Emily Goodwin, Andrea Jeria, Denise Jones, Cathy Kalimon, Anita Mitchell, Teresa Ruiz, Kathy Tesi, Kathy Walsh and Eroica Wallman.