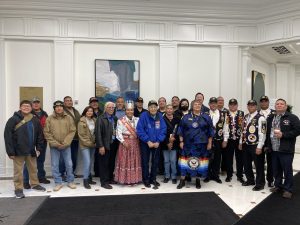 On Friday, November 11th, Powers held a special breakfast reception honoring Native American Veterans in celebration of the Dedication of the Native American Veterans Memorial by the National Museum of the American Indian. The reception hosted several representatives from different tribal groups as well as special event speakers:
Andy Joseph, Jr., Council Member, Confederated Tribes of the Colville Reservation
Don Loudner, Commander, NAIV, Inc.
Frank Tedeschi, U.S. Army (Ret.), Military Advisor to Hon. Senator Mike Rounds
Ernest Moy, M.D., Executive Director of Health Equity
Peter Rumm, M.D., Director of Policy, Health Outcomes of Military Exposures
Dr. Peter Rumm outlined the new expansions to the PACT Act, while Dr. Ernest Moy provided an overview of the purpose of the VHA Office of Health Equity and provided evidence-based analysis on areas of focus for Native American veterans.
During the event, Powers Principal Paul Moorehead also honored Don Lounder for all his contributions to the Native American community by presenting him with a Pendleton blanket. His most recent contribution was working with South Korea to ensure a steady supply of KN-95 masks to each tribe during the Covid-19 pandemic.
The breakfast reception was held to coincide with the Smithsonian's National Museum of the American Indian three-day event to honor Native American veterans. On Friday, November 11th, the museum held a Native veterans' procession before an official dedication ceremony of the Native American Veterans Memorial. Over the weekend, the museum hosted special programming, including hands-on activities, films, and performances in the Potomac Atrium. The museum also hosted a special exhibition, "Why We Serve: Native Americans in the United States Armed Forces."
---
­­Powers Pyles Sutter & Verville PC is a nationally recognized, award winning D.C. based law firm specializing in Federal Indian Tribal government organizations, tribally-owned corporations, and private entities. For 40 years, the Firm has expanded its expertise to include healthcare, education, public policy and government relations services, employment law services, representation of nonprofit organizations, and representation of clients seeking expertise in other areas of administrative law. Powers seeks to focus on problem-solving rather than just litigation-orientation strategies on behalf of the Firm's clients along with providing a personal, rather than institutional, form of service to all clients. This approach has resulted in longstanding relationships with our clients. For more information regarding our Indian Tribal Governments practice group, please don't hesitate to reach out to Principal Paul Moorehead at Paul.Moorehead@PowersLaw.com or to the Director of Tribal Government Relations Natasha John at Natasha.John@PowersLaw.com.