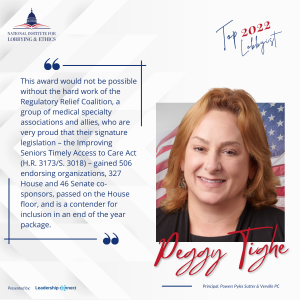 Powers Principal Peggy Tighe was named a 2022 Top Lobbyist by the National Institute for Lobbying & Ethics and Leadership Connect. This distinction is awarded to only a hundred professionals each year that saw significant legislative success, have been innovative in their field, are held in high regard by their clients or members, and are individuals who give back to their community through charity or pro bono work. Peggy was also chosen for this premier award in 2020. All 100 Top Lobbyist designees will be recognized at the 2022 awards ceremony on November 17 from 6-8pm at Leadership Connects' office in Washington, D.C. Here is the link to register to attend the event.
Peggy identified an issue on which all healthcare provider groups agreed – that Medicare Advantage (MA) plans should be transparent on how they use prior authorization (PA), a utilization control that some insurers use to delay or deny care.  As a former insurance industry representative and a former American Medical Association lobbyist, she knew both sides of the argument, and that the only way to resolve the decades long fight was to create a common sense, middle ground solution supported by many different advocacy groups and organizations.
To achieve a more transparent prior authorization process in Medicare Advantage (MA) plans, Peggy established the Regulatory Relief Coalition (RRC), a group of 16 specialty physician organizations advocating for common sense PA reform and regulatory burden relief in MA plans so that patients gain more timely access to care. Working with coalition leaders and Congressional champions, Peggy enlisted members of Congress to craft legislation, the Improving Seniors Timely Access to Care Act (S. 3018/H.R. 3173).
The RRC worked to ensure that every impacted key health care group stood with them – patients, providers, disability advocates, device manufacturers, service providers, and even insurers, totaling over 500 endorsing organizations – a rarely achieved result in uncommonly divisive times. In fact, the Better Medicare Alliance, the nation's leading research and advocacy organization supporting MA plans, announced their endorsement of the both the House and Senate bills.
In 2022, several major milestones were achieved. After securing over 290 co-sponsors, H.R. 3171 was placed on the Consensus Calendar on July 12 and as previously promised, subsequently marked-up by the Ways and Means Committee on July 27. The House Energy and Commerce Committee reviewed the bill in a committee hearing on September 14. That same day, H.R. 3173 was passed by the House on a voice vote, despite a challenging Congressional Budget Office (CBO) score the night before the vote. RRC is hopeful that this House-passed legislation could be included in an end of year package. H.R. 3173 is one of the most broadly supported, bi-partisan health care bills in the 117th Congress, with 327 co-sponsors in the House (75% of the membership of the U.S. House of Representatives) and 45 co-sponsors in the Senate (nearly half of the membership of the U.S. Senate).
Earlier this year, RRC's work was validated by the Government Accountability Office (GAO) and the Office of the Inspector General (OIG).  The GAO acknowledged in their March 2022 report, Access Challenges for Covered Consumers in Mental Health, that health plans are less likely to grant prior authorization for mental health hospital stays compared with other medical and surgical hospital stays. In April of 2022, the OIG found that some Medicare Advantage Organization denials of prior authorization requests "raise concerns about beneficiary access to medically necessary care."
---
The Powers government relations and public policy law firm team represents trade associations, nonprofit organizations, coalitions, and businesses in healthcare. In particular, we have significant expertise working with physicians and other health care professionals, hospitals and hospital systems, health technology providers, and a wide range of post-acute care and ancillary service providers and suppliers. Principal Diane Millman helped orchestrate the legislative effort surrounding the work for the RRC.  To learn more about the Regulatory Relief Coalition, you may visit the following website page. For more information about healthcare policy and advocacy, Peggy Tighe can be reached at Peggy.Tighe@PowersLaw.com or 202-875-6752.