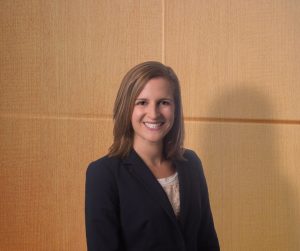 This month's Professional Spotlight highlights Megan La Suer, an Associate in the Powers healthcare practice. Megan's range of legal and legislative advocacy experience includes providing counsel on compliance issues related to the 340B Drug Pricing Program and Ryan White program, state Medicaid policy and licensure requirements, HIPAA privacy and security rules and the GDPR, and Medicare enrollment and reimbursement matters. 
---
Q: Why did you choose to become a healthcare attorney?
A: When I was in undergrad, I took a few healthcare administration classes that introduced me to the world of health policy and how complicated the U.S. healthcare system is. I also got to know the general counsel for the University of Iowa Hospital and Clinics and was inspired by the work he did for the hospital and its patients. Because of my interest in health policy, I decided to focus on taking classes that would help guide me to a career in health law and signed up for internships that exposed me to different areas of health law. I love that health law is a constantly evolving field and that everyone has to touch the health care system at some point in their lives.
Q: What do you enjoy most or find most interesting about your practice and why? 
A: As an attorney in both the healthcare practice group and non-profit practice group, I really enjoy the wide variety of projects I am able to work on. From drug pricing to HIPAA to drafting contracts, it's never a dull moment. Although this sounds cheesy and cliché, it's really rewarding to work on projects that have a direct impact on, and hopefully improve, patient care.
Q: What advice do you have for young people hoping to start a career in healthcare law?
A: Network, network, network. Don't be afraid to send a LinkedIn message or ask someone to coffee. Attorneys working in the health field take on a variety of responsibilities in their practices, so it's a good idea to talk with many professionals to get a sense of what opportunities are available. And you never know when you'll meet someone who will eventually help you land your dream job!
Q: Do you have any hobbies/what do you like to do outside of work?
A: I am on the Board of Directors for the Capital Area Iowa Club and plan events and Iowa Hawkeye game watches for the Iowa alum in the DMV area. Growing up, I always wanted to live in a city with professional sports teams, and I love spending my free time at Nats games (although I'm a die-hard Cleveland Guardians fan). I'm also an avid traveler and will find any excuse to jump on a plane to go somewhere new.
Q: What is a fun fact that people might not know about you?
A: One of the major goals in my life is to learn how to fly a plane.
Q: If you were not an attorney, what profession would you have chosen?
A: I would be in France, running a winery (although this dream hasn't died yet).
Q: What is your favorite restaurant?
A: I consider myself a foodie and enjoy exploring new restaurants in the DMV area. My current favorite restaurant in D.C. is Red Hen in Bloomingdale (Zeppelin in Shaw is a close second).
Q: Where did you grow up?
A: Des Moines, Iowa