Powers is pleased to announce that two interns have joined the firm for summer 2021. Ciara Johnson will intern with the firm's tribal practice, while Rebecca Kaiser will serve as a legislative health policy intern.
Ciara graduated in 2021 with a Bachelor of Arts in Political Science, specializing in American and International Politics with a concentration in sociology from Columbia University. While in college, she interned on Capitol Hill for then senator Kamala Harris and worked as a political canvasser for Montana State Senator Jen Gross. Ciara is a tribal member of the Ho-Chunk Nation, People of the Big Voice, from Wisconsin and aims to create political inclusion for Native Americans as well as any other group experiencing political suppression.
Rebecca completed her Master of Public Health with a focus in health policy from George Washington University in 2021. She has a Bachelor of Science in Biology and a graduate certificate in Health Communication from the University of Dayton, both of which she completed in 2019. She also interned for Representative John Larson (CT-01) in 2019 and worked as a paralegal in a health care law firm prior to joining Powers.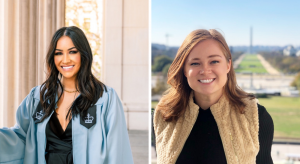 About Powers Pyles Sutter & Verville
Powers Pyles Sutter & Verville is a Washington, DC-based law firm with national healthcare, education, government relations, Indian tribal governments and nonprofit practices. The firm represents healthcare organizations and companies, higher education institutions, tribal governments and non-profit organizations. For more information, follow us at @PowersLawFirm or visit www.PowersLaw.com.