Powers is pleased to welcome the firm's 2021 summer associates, Hannah Comeau and Alyson Raphael. Hannah will work with the firm's healthcare practice group, while Alyson will work with the education practice group.
Hannah is a student at the University of Virginia School of Law, where she currently serves as Editor-In-Chief of the Virginia Journal of Social Policy and the Law. She also works as a Research Assistant and will be taking part in the Law School's Appellate Litigation Clinic next year.
Last year, Hannah interned with the Federal Labor Relations Authority, Office of the Solicitor where she contributed to high impact projects and litigation matters. During law school, Hannah also worked as a Teaching Assistant for her 1L Contracts professor and engaged in a wide range of Pro Bono projects.
Prior to law school, Hannah worked full time as a Medical Assistant at an OBGYN clinic in her southeastern Idaho hometown. She graduated from Brigham Young University-Idaho in 2018 with a bachelor's degree in Sociology.
Alyson is a student at the Georgetown University Law Center, where she is a Senior Notes Editor for the Georgetown Journal of Legal Ethics, Operations Director for the Appellate Advocacy Division of Barristers' Council, and is enrolled in the Federal Legislation Clinic. She has previously interned with the US Department of Education, Office of the General Counsel and with the EEOC, Office of the Chair.
Prior to law school, Alyson earned a master's in teaching and taught at a public charter school in DC. She was also an AmeriCorps member with the Metro DC Reading Corps. Alyson graduated from the University of Michigan Honors Program with a major in English.
The Powers summer associate program exposes law students to the firm's practices throughout a 10-week period. The program provides summer associates with challenging work, practical training and the opportunity to work and socialize with many of our lawyers, professionals and staff.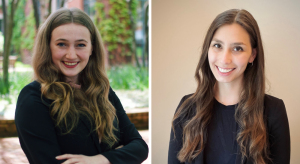 About Powers Pyles Sutter & Verville
Powers Pyles Sutter & Verville is a Washington, DC-based law firm with national healthcare, education, government relations, Indian tribal governments and nonprofit practices. The firm represents healthcare organizations and companies, higher education institutions, tribal governments and non-profit organizations. For more information, follow us at @PowersLawFirm or visit www.PowersLaw.com.