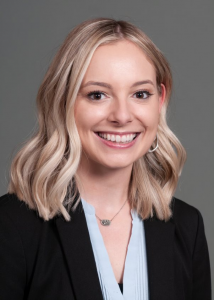 Powers is pleased to announce that Delaney Bounds has joined the firm as a summer associate in the firm's healthcare practice.
Delaney is a student at the University of Iowa College of Law, where she is a Contributing Editor on the Iowa Law Review and President of the Iowa Student Health Law Association. During law school, she served as a Legal Intern with the American Association of Retired Persons (AARP), where she worked on legal issues related to the rights of nursing facility residents and other elder law topics.
Prior to law school, Delaney earned her Master of Public Health from the University of Iowa's College of Public Health. While earning her MPH, she served as a Graduate Research Assistant for Dr. Brian Kaskie and as a Health Policy Fellow for University of Iowa Health Care, where she held several different placements, including at the United States Senate Finance Committee and the Rural Policy Research Institute.
As a summer associate with Powers, Delaney will work on health policy and legal issues under the guidance of the firm's leading health law professionals, before returning to University of Iowa to complete her JD. The Powers summer associate program exposes law students to the firm's practices throughout a 10-week period. The program provides summer associates with challenging work, practical training and the opportunity to work and socialize with many of our lawyers, professionals and staff.
---
About Powers Pyles Sutter & Verville
Powers Pyles Sutter & Verville is a Washington, DC-based law firm with national healthcare, education, government relations, Indian tribal governments and nonprofit practices. The firm represents healthcare organizations and companies, higher education institutions, tribal governments and non-profit organizations. For more information, follow us at @PowersLawFirm or visit www.PowersLaw.com.