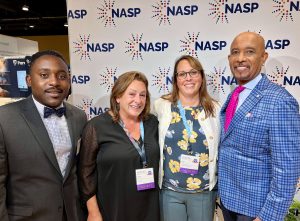 Celebrating its 10th Anniversary as the unified voice of the specialty pharmacy industry, Julie Allen, Peggy Tighe, and Mark Ogunsusi joined the National Association of Specialty Pharmacy's (NASP) 2022 Annual Meeting & Expo.
NASP is a long-standing client of Julie Allen, where she is the strategic advisor for the association's government relations, policy development and broader advocacy initiatives.  Julie is joined at the celebration this week by Powers' attorneys Peggy Tighe and Mark Ogunsusi.  Julie will speak on different subjects, highlighting NASP's 2022 government relations achievements and activities in "NASP in Action," and addressing passage of the Inflation Reduction Act and its drug pricing reform provisions in "Drug Pricing Reform Legislation Becomes Law – Thoughts for Specialty Pharmacy." Peggy Tighe and Mark Ogunsusi will be speaking on 340b policy issues confronting the specialty pharmacy community in "340B Point/Counterpoint." At the meeting, NASP leadership highlighted advocacy as the #1 reason specialty pharmacy industry stakeholders belong to NASP.
NASP is the only national association representing all stakeholders in the specialty pharmacy industry. NASP members include the nation's leading specialty pharmacies, pharmaceutical and biotechnology manufacturers, group purchasing organizations, patient advocacy groups, integrated delivery systems and hospitals, health plans and PBMs, technology and data management vendors, logistics providers, wholesalers/distributors and ​​​practicing pharmacists, nurses, and pharmacy technicians. With over 160 corporate members and 2,700 individual members, NASP is the unified voice of specialty pharmacy in the United States.
---
For more information, contact Julie Allen at Julie.Allen@PowersLaw.com or 202-872-6753, Mark Ogunsusi at Mark.Ogunsusi@PowersLaw.com or 202-872-6759, and Peggy Tighe at Peggy.Tighe@PowersLaw.com or 202-872-6752