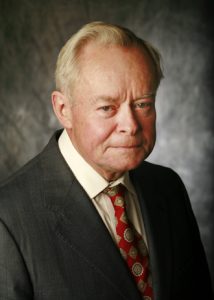 Galen D. Powers, beloved founder of the Washington, D.C. law firm that bears his name, died at home at his farm in Chambersburg, Pennsylvania, on May 27, 2010, at the age of 73.
Mr. Powers, a founding father of health law, had an illustrious career in public service and private practice beginning in the Office of General Counsel, Department of Health, Education and Welfare in 1965.  His government career was recognized in citations from both the Secretary and the President, and he was appointed the first Chief Counsel to the Health Care Financing Administration in 1977.  He entered private law practice in 1979 and in 1983 founded Powers Pyles & Sutter, which became Powers Pyles Sutter and Verville in 1994.  More than a quarter-century after its founding, the firm continues to thrive as a national leader in the fields of health care and education law.
Mr. Powers was selected as one of the nation's most prominent healthcare lawyers by the National Journal in 1985 and received similar acclaim in other well known journals for the next 20 years. He served on a variety of boards, including that of the historic Cosmos Club, and as President of the National Health Lawyers Association, now the American Health Lawyers Association, in 1990.  Galen was proud to be a leader in the enactment of the Medicare Hospice program and of the Health Services for Children with Special Needs program in the District while in private practice.
He is survived by his beloved wife of 40 years, Sandy, his daughter Kathleen, and his grandson Connor.
Galen Powers will be long remembered and sorely missed by colleagues for his vision, creativity, leadership and courage. Mr. Powers' mentorship to young lawyers was instrumental to the success of the law firm and its attorneys.  A man of diverse interests, Galen's passion for the law and for the welfare of his colleagues was augmented by his success and expertise as a farmer, gardener, and historian.  This diversity of knowledge and expertise and his desire to share them broadened Mr. Powers' legacy and enriched the lives of all who knew him.
A number of tributes celebrate Mr. Powers's life:
Kathleen Sebelius, the U.S. Secretary of Health and Human Services, sent Mr. Powers a letter commending his career.
The American Health Lawyers Association, of which Mr. Powers was a past president, published a tribute.
To read Mr. Powers' obituary from the Washington Post, click here.
In memory of Mr. Powers' many contributions to Health Management Systems, Inc. and HMS Holdings Corp., the board made this resolution:
RESOLVED, that in recognition of his two decades of service as a Director of HMS, and with deep appreciation for his wise counsel and steadfast dedication to the best interests of the Company and its stakeholders, the Board of Directors of HMS wishes to honor Galen D. Powers by establishing the Galen D. Powers Award.

FURTHER RESOLVED, that the Galen D. Powers Award will be in the amount of $10,000, and given on an annual basis to the HMS employee best exemplifying the vigorous commitment to the principles of quality improvement and regulatory compliance that has been exhibited by Galen during his years of service to HMS.
MedCath Corporation issued a press release expressing condolences to Mr. Powers' family. Mr. Powers served on the MedCath board of directors for 12 years and chaired their Compliance Committee. John Casey, chairman of MedCath's Board of Directors, states, "Our Company and our industry have lost a legend and friend.  Galen was a special man. He was a pioneer of healthcare law as a subspecialty, and through his entrepreneurial skills and spirit and his business acumen leaves an indelible mark on many companies, MedCath among them.  Galen was a consummate professional, and we will miss him and his leadership as his legacy of corporate integrity and quality care survive him into the future. We extend our sincere condolences to his wife, Sandy, and all of Galen's family."