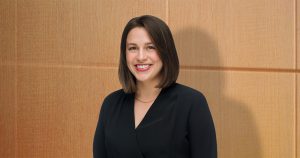 This month's Professional Spotlight highlights Natalie Keller, the Manager of Government Relations at Powers with a focus on healthcare, disability, and behavioral health policy.  Natalie serves clients through project management, grassroots advocacy, coalition coordination, and policy research and analysis. Before joining the firm, Natalie served as a Health Policy Analyst for the Mississippi Public Health Institute. In addition, she co-wrote federal grants that secured millions in funding and led a multi-state agency team to produce quarterly substance use data reports.
---
Q: Why did you choose a career in healthcare, disability, and behavioral health policy?
A: I began my career working in education but quickly became involved in community health programs as a side project. One of my favorite jobs involved working on a Presidential Emergency Plan for AIDS Relief (PEPFAR) project with children and families living with HIV/AIDS. In each community project including PEPFAR, however, I felt frustrated by the issues that necessitated the community health intervention. That frustration led me to an interest in solving systemic issues at a policy level.
Q: What professional accomplishment are you most proud of?
A: While in Peace Corps in Ukraine, I started a leadership camp for students with disabilities at the school where I worked as a teacher. It took months of convincing the school administration and the local education department that the camp could work. Previously, I had worked for a summer at an Easter Seals camp in Colorado for children and adults with disabilities and knew the positive impact of a fun, supportive, and inclusive environment for people often excluded from activities centered around ability. After months of hard work with my Ukrainian partners, we hosted the camp with about 40 kids from the city. The camp was a success! I feel very grateful to the parents of the children involved and everyone who helped create a wonderful experience for the kids.
Q: What do you like most about working at Powers?
A: I really enjoy learning from my colleagues and working together on complex problems.
Q: What do you enjoy most or find most interesting about your practice area and why?
A: I love bringing people together and finding solutions that are mutually beneficial.
Q: Do you have any hobbies/what do you like to do outside of work?
A: I love to cook! I learned to cook at a young age, mostly from watching Food Network chefs like Emeril Lagasse and Rachael Ray. A recent recipe I made and enjoyed was a beet and yogurt dip with dill. Fresh, simple, and delicious.
Q: If you were not in government relations, what profession would you have chosen?
A: I majored in classics in college and have always loved studying history and art. I'd love to work as a museum curator.
Q: What is your favorite movie?
A: My favorite movie is Gigi. It's a 1950s era musical set in Belle Epoque Paris staring Leslie Caron. I love the costumes and the colorful sets.
Q: Who would you invite (dead or alive) to a dinner party?
A: I'd have dinner with Elena Ferrante who wrote the Neopolitan Novels. She's one of my favorite authors who writes about life as a woman in the 20th century. One of the most interesting aspects about her is that Elena Ferrante publishes under a pseudonym, and no one knows her true identity. I think she's a gifted narrator of female friendship and a woman's relationship to the broader community.