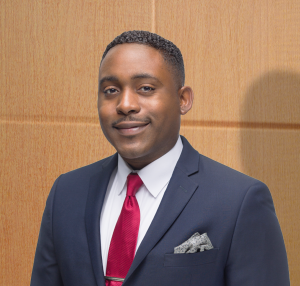 This week's Professional Spotlight highlights Mark Ogunsusi, an associate in the Powers healthcare practice group. Mark specializes in regulatory matters involving pharmaceutical pricing and the 340B federal drug discount program. In addition to his legal degree, Mark is a doctor of pharmacy and has over ten years of experience as a pharmacist that inform his health law practice.
---
Q: Why did you choose to become an attorney?
A: I grew up working in hospitals and pharmacies.  Beginning in 8th grade, I spent summers working in various departments of Grady Memorial Hospital in Atlanta, including on the infectious diseases floor.  I continued working there throughout high school summers and in community pharmacies at night.  I recall regularly speaking with patients and fellow staff members who often discussed Grady's critical role in providing uncompensated care to Georgians.  Those experiences fueled my desire to learn more about public health care programs and attend law school.
Q: What led you to work in the 340B space?
A: My years of work at Grady and a discussion with a Powers representative during law school.
Q: What professional accomplishment are you most proud of?
A: Joining the Powers team was a major step for me.  It immediately propelled me into the depths of sophisticated drug pricing laws.  It is difficult to find true experts in these complex legal areas, and I was lucky enough to find them at Powers.
Q: What is a fun fact that people might not know about you?
A: I am a classically trained pianist.  I have composed a few pieces and have played for large crowds.
Q: What do you like most about working at Powers?
A: The partners and associates that I work with have a subject matter expertise that I believe is unmatched in D.C.  I also appreciate the breadth of work provided at the firm, which ranges from drafting federal laws to writing litigation briefs.
Q: If you were not an attorney, what profession would you have chosen? 
A: Tech development, consulting, or healthcare administration.
Q: What is your favorite restaurant?
A: Maiz 64
Q: Favorite Movie?
A: Gladiator
Q: Where did you grow up?
A: Atlanta, Georgia – Go Braves!
Q: Who would you invite (dead or alive) to a dinner party?
A: Senator Edward Kennedy because I have a few questions regarding a couple of statutes he pioneered.
Q: What advice do you have for young people hoping to start a career in healthcare law? 
A: Always be willing and hungry to learn new areas of the law and to take on projects.  Each project that you take on will very likely inform your future practice.
---
Mark can be reached at 202.872.6759 or Mark.Ogunsusi@PowersLaw.com