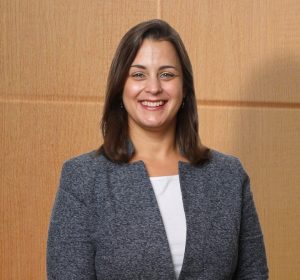 This month's Professional Spotlight highlights Cynthia Grunden, a Financial Aid and Higher Education Specialist with the Powers education group. Cynthia has more than 20 years of experience as a financial aid administrator, helping public and private colleges and universities successfully navigate the highly regulated field of higher education and federal financial assistance.
---
Q: What professional accomplishment are you most proud of?
A: I'm most proud of the relationships I formed with my wonderful colleagues while working at postsecondary institutions. Financial aid administrators sometimes have the (quite unfair) reputation of being siloed and rigid in their work. Throughout my career, I've sought to collaborate with professionals in other departments to create a better experience for students and to strengthen the institution. I still regularly talk to colleagues I haven't worked with in years and I cherish those friendships.
Q: What do you like most about working at Powers?
A: I've been at Powers for less than a year, and I am still learning my role. Thus far, I've observed that the Education Team works tirelessly to put clients first.  The clients we serve care deeply about their students and about ensuring they do things the right way – Powers is an excellent partner in these pursuits.
Q: What do you enjoy most or find most interesting about working in financial aid and why?
A: I enjoy working in financial aid because the work is challenging, analytical, ever-evolving, and collaborative (if done correctly!).  Serving as a financial aid administrator is about so much more than following rules. A successful financial aid administrator must balance serving students, advancing their institution's mission, developing policies and procedures and implementing processes, leading a team, communicating rules to the campus community, and advising college leadership regarding challenges and opportunities.
Q: Do you have any hobbies? What do you like to do outside of work?
A: I am an avid reader and typically finish 2-3 books per week. The librarians at my local library branch know my name because they see me every week.
Q: If you were not a financial aid specialist, what profession would you have chosen?
A: If I had to choose a profession other than financial aid, I would be a park ranger for a national park, preferably one in the Southwest. I think I would enjoy living on site at a national park, and to help others enjoy and appreciate nature.
Q: What is your favorite vacation destination?
A: My favorite kind of vacation involves hiking, biking, or paddling (ideally all three!). I try to visit at least two National Parks each year.
Q: Where did you grow up?
A: I grew up in Northwest Indiana. Both of my parents worked in the steel industry, and I was the first in my family to go to college. My parents would have done anything to help me be successful, but they did not have the experience and knowledge of the college process to guide me. There are many aspects of the college process that are not self-evident, and my own experiences informed my future interactions with first-generation students and their families as they navigated the college process.