Powers is pleased to announce that Olivia O'Hea has joined the firm's education practice.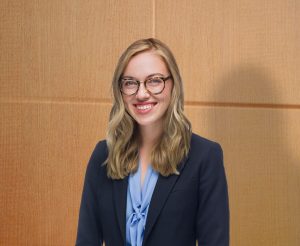 Olivia previously worked as a summer associate with Powers before completing her J.D. at Georgetown University Law Center. She now joins the firm in a permanent role, where she will work on matters related to institutional accreditation, Title IV compliance, program reviews and audits, transactions, and more.
While in law school, Olivia served as a law clerk for the House Committee on the Judiciary, Oversight Division and the U.S. Office of Special Counsel, Hatch Act Unit. She also worked as a student attorney in Georgetown's appellate litigation clinic, where she argued a case before the United States Court of Appeals for the Fourth Circuit and briefed a case for the District of Columbia Court of Appeals.
She was the Managing Editor of Articles for the Georgetown Journal of Legal Ethics, a member of the Appellate Advocacy Division of Georgetown's Barristers' Council, a delegate on the Student Bar Association at Georgetown, and a member of the Women's Legal Alliance. She was also a member of Georgetown's Early Outreach Admissions Committee, where she assisted with admitted student events and met with groups of prospective students, and a member of the Professional Responsibility Committee, which oversees academic misconduct cases and recommends changes to the Student Code of Conduct. While serving on this committee, Olivia worked on changes to the Law Center's Title IX policy to come into compliance with the new Title IX regulations that took effect in August 2020. While at Georgetown, Olivia also served as a research assistant for Professor Victoria Nourse.
Prior to entering law school, Olivia worked as a Communications Assistant for Pew Research Center and as a Public Affairs Intern for LS2Group. Olivia earned her undergraduate degree from Drake University, where she graduated summa cum laude with a Bachelor of Arts in Law, Politics, and Society and Public Relations in 2016.
Olivia can be reached at Olivia.OHea@PowersLaw.com.
About the Powers Education Practice
The Powers education practice advises and guides educational institutions and other clients through the highly complex regulatory framework in which the education sector operates. Our education attorneys are nationally recognized for their expertise regarding federal laws applicable to institutions of higher education, including student financial aid regulations and accreditation and state licensure matters. They have vast experience assisting institutions in responding to program review and audit findings, and in defending institutions in accreditation proceedings. The team regularly represents clients in transactions in the higher education, K-12, and EdTech sectors. Powers clients include private nonprofit colleges and universities, public institutions of higher education, privately owned and publicly traded schools and school systems, Pre-K and secondary school systems, private equity firms, lenders, service providers, and others active in the education arena.