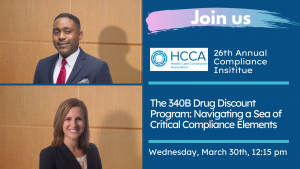 Powers attorneys Mark Ogunsusi (PharmD, JD) and Megan La Suer (MHA, JD) will present at the Health Care Compliance Association's (HCCA) 26th Annual Compliance Institute on March 30th.
Their session, titled "The 340B Drug Discount Program: Navigating a Sea of Critical Compliance Elements," will discuss 340B program essentials, key compliance requirements, and common risk areas for covered entities. The session will also summarize key elements of 340B contract pharmacy arrangements, emerging compliance opportunities, explore important trends in government audits, and tips for performing internal self-audits.
The presentation will take place on Wednesday, March 30th from 12:15 to 1:15 pm. Click here to learn more and register.