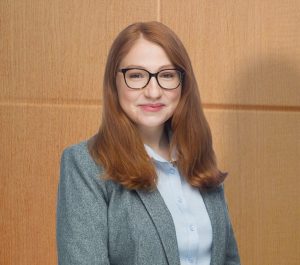 Powers is pleased to announce that Michaela Boudreaux joined the firm today as a Legislative Analyst.
In her role, Michaela will support the firm's government relations/legislative practice, focusing on health policy and advocacy in a variety of areas including Medicare, Medicaid, public health, and health care reform.
Prior to joining Powers, Michaela was a Policy Consultant for Booz Allen Hamilton, where she led the Compensation and Benefits Team and wrote program policy for the Special Compensation for Assistance with Activities of Daily Living (SCAADL) Program. She also served as a Legislative Analyst for Williams & Jensen, PLLC, where she monitored and analyzed legislation and regulation and supported client advocacy events such as Hill days and briefings. She has also held internships with Senator Bill Cassidy and Representative Mike Turner.
Michaela earned her B.A. in Politics from Lake Forest College in 2016 and is currently working towards her master's in public health from George Washington University.
Michaela can be reached at Michaela.Boudreaux@PowersLaw.com or 202-872-6737.
About the Powers Government Relations/Legislative Practice
The Powers Pyles Sutter & Verville government relations and legislative practice navigates the complexities of the federal government to achieve policy and advocacy solutions for clients. As a public policy law firm with a thriving legislative and regulatory practice, Powers brings a highly substantive approach to the firm's client work. The firm's government relations practice encompasses the full range of bipartisan government relations services, including strategic problem-solving, direct lobbying, legislation development, regulatory affairs, grassroots advocacy, and public outreach, all supported by a deep bench of legal talent with extensive subject matter expertise.